Case Study
Cummins Electrification Campaign
Challenge
Global power leader Cummins, known for its diesel engines, added a new business segment: Electrified Power Solutions. In an effort to ramp up their investment and work in electrification, they wanted to more than double their headcount of electrification employees by the end of 2018.
Solution
We helped Cummins ideate, develop, and execute a recruitment campaign, "Feel the Energy." The initiative targeted recent graduates and experienced engineers pursuing careers in electrification.
Results
From May to December, the campaign drove 476 candidate leads for the Electrified Power Business Unit at Cummins.
Additionally, the campaign generated:
214 new LinkedIn followers
513,753 impressions
14,301 engagements
68,496 video views
3,833 clicks
Our Approach
Compared to other power sources in the commercial engine engineering and manufacturing field, electrification is a relatively unexplored space and ripe for innovation. We knew that for this campaign to be successful in recruiting new and talented engineers, we would need to tap into the energy that comes with the potential for breakthrough and discovery. Thus, "Feel the Energy" was born.
Video
The cornerstone piece of the campaign was a video shared with both internal and external audiences. It tells the story of an aspiring electrical engineer finding her place at Cummins and evokes the wonder, ambition, and excitement of discovering something new.
Shot in Columbus, Indiana, the home of Cummins' world headquarters, the video ends with a shot of Cummins' landmark innovation in electrified power: the fully electric AEOS semi-truck.
Design
Visually, we wanted the campaign to draw on the energy and movement inspired by the messaging. By pairing leading lines that created a feeling of direction and progression within the actual campaign logo with long-exposure photography of vehicle lights, we conveyed that sense of movement and energy.
Our video team was able to capture powerful images of Cummins employees working on the AEOS truck for use in campaign visuals. This was a great opportunity to visually show off the type of high-profile work these potential employees will be working on.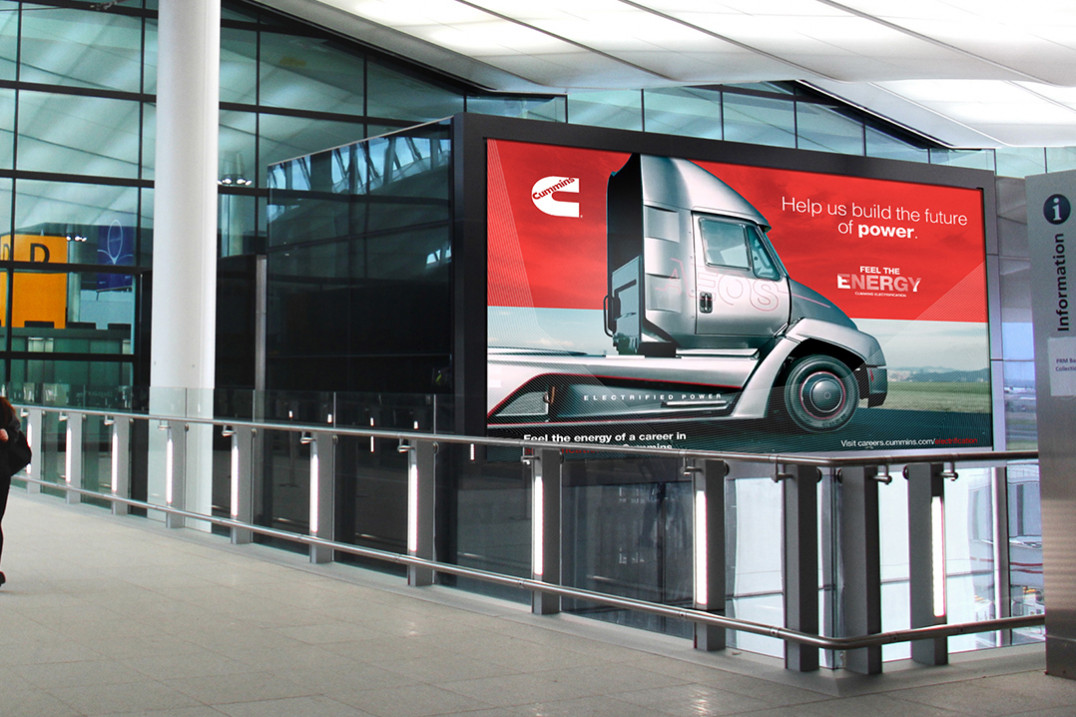 Advertising

Knowing we'd need to reach brand new audiences, we launched a digital advertising campaign, focusing primarily on social media channels like LinkedIn, but also placing display ads.
The ads targeted recent graduates and experienced engineers interested in careers in electrification. Messaging focused on opportunities for personal and professional growth as part of an industry-leading team in a cutting-edge field.

Similar Projects
Work
Branding, Content Development, Video Production
View Project
Work
Advertising, Content Development, Video Production
View Project