Case Study
Kappa Alpha Theta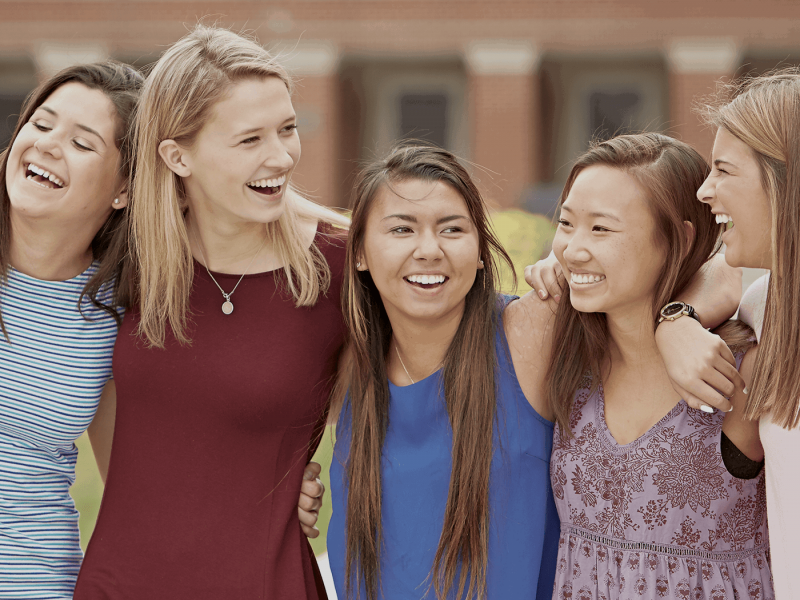 In Kappa Alpha Theta, women find an inclusive, supportive, empowering community that pushes them to be the finest versions of themselves.
As the first Greek-letter fraternity for women, Theta upholds a long tradition of leading the way for women's groups and women in higher education.
In our partnership with Theta, we wanted to ensure the new brand highlighted this same longstanding tradition and emphasized the nature of Thetas to stand out and make a difference.
During their college years and beyond, many women have the opportunity to call Theta "home." We believe that the brand and digital presence should elicit this same feeling.
The Theta brand and the communication tools they use must serve a large and diverse audience that includes potential new members and their parents, donors, alumnae, greek organizations, and universities.
During initial research for the project, we discovered that some things were working well and others . . . not so much. We recommended a brand refresh and a refocus on Theta's digital presence.
While the brand held sentiment for thousands of Kappa Alpha Theta members, it was time for an update.
We built brand standards and style guides so that the Kappa Alpha Theta audience receives the same consistent visuals whether they are reading the magazine or clicking through the website. That consistency builds recognition and establishes trust in the brand.
Building off of existing logos and standards, we approached the brand refresh as a way to update the brand to showcase a more graceful, modern and fresh look and feel across the visual landscape.

To ensure the integrity and timeless nature of the brand stayed intact, we updated fonts to Playfair and Open Sans. We also created fun patterns that represented a more youthful audience while keeping the classic brand elements — such as the pansy flower and kite-shaped badge — prominent.
It was important to me when looking at the brand refresh to consider how to use historical elements such as Bettie's handwriting for the "Leading Women" tagline and other parts of Theta's rich history to inspire and represent a more youthful audience.

—Suz McGill, Design Director
Branding is more than a logo. Branding is the key to differentiating yourself from the competition, and should build awareness, trust, and loyalty with your audience. Once the new logo and brand elements were established, we worked with Theta to apply this brand to marketing materials such as the member magazine and more.

With an updated brand, our next challenge was the website — from the nuts and bolts to its overall architecture. At 20+ years old, the website was ready for a whole new approach.
This would include a key — and complicated — component: consolidating three websites into one.
During our research and throughout conversations with Theta alumnae, it became apparent that users did not understand the distinctions among Theta's three websites: the primary Fraternity website, the Fraternity Housing Corporation website, and the Foundation website.
While looking at the Fraternity website structure, we evaluated how we could combine all three sites into one. We also determined what content would be more appropriate behind the member portal login, rather than displayed on the public facing website. The final sitemap for launch contained approximately 75 main pages (down from 250+), excluding blogs and news articles, making it more manageable for editors and users alike.
One of the biggest challenges in simplifying the navigation was to consolidate years' worth of valuable information. The constant questions became, "what is the general public interested in" and "what information are the members interested in?" This helped us to dictate thousands of page locations and information for the new structure.

—Kristina Bender, Digital Experience Specialist
With our new sitemap, we worked with Theta to draft and place content on the appropriate pages of the new website. Our video production agency, Think Ahead Studios, helped to develop videos for use throughout the website and in Theta marketing and recruitment initiatives.

My wife is a Theta, and I worked in the kitchen at her house in college. I have been able to see the impacts of the organization from a pretty close vantage point. I wanted to make sure to capture the lifelong sisterhood that is developed between these women. For production, it was all about creating a comfortable space for people to talk about their experience. The use of letters and old scrapbooks served as a great way to help each person reminisce and talk about their experiences.

—Jason Drake, Executive Director
With the new structure and content in place, it was time to combine it all — architecture, page content, and brand elements — into a user-friendly web design.
The existing website received decent traffic despite the fact that it was not mobile-friendly. With more engagement happening on mobile devices every year, we knew Theta was missing out on key opportunities to highlight their community involvement, share chapter stories and engage with members.
As we designed and developed the new website, we had to consider how to translate many of the more complex tasks — such as donating — to different devices for the first time.
During the development phase of a new website, we must take into account both 1) how the website will work on the front-end, i.e. the part that users see and interact with, as well as 2) how Craft — the content management system, or CMS — would be organized for editing and integrations.

Simplified, intuitive navigation
Website visitors had trouble understanding the structure of the previous website, and where to locate information. This was caused by a combination of unorganized website structure and nondescript page names.

Combining three websites into one first involves untangling knots and then re-tying them. When dealing with so much content — and so many actions the user can take — we needed to build a website structure that feels intuitive to users. Of equal importance, we needed to come up with a way of displaying the website's navigation that isn't daunting to look at or use.
This included both the main website navigation, as well as sub-navigations on interior pages.
Add a search tool
On smaller websites, not having a search bar isn't always an issue. The Theta website, though, had been amassing new content and pages for decades without a major design or functionality update. Adding a search tool — and a more intuitive content structure — means that users can now easily and quickly find specific content on the website.

Make it easier to find College Chapters and Alumnae Groups as well as streamline data
With 147 chapters and nearly 200 alumnae groups across North America, it's important that users are able to find the specific chapter or group information they are looking for. To do this, we established a more intuitive filtering feature that reflected how users were actually searching for chapter information. We also created new chapter and alumnae group profile pages that prioritize the information users engage with most.
Theta uses a third-party database to store all chapter information. We had a great opportunity to streamline the process of displaying information from this database on our public-facing website, avoiding more manual and duplicate data loading.

—Kelly Bleck, Development Lead
Integrate information from third-party database for Theta leadership section
It takes a lot of minds to run an organization the size of Theta. Internally, Theta keeps track of personnel information in a database separate from the website. We were able to integrate the database with the website so that staff changes automatically update on the website, and are displayed in a manner that is easy to read and locate.

Results
39%
increase in avg. monthly users
2
second reduction in avg. page load time
27k
approx. reduction in total pages
Similar Projects
Work
Branding, Content Development, Video Production
View Project
Work
Content Development, Video Production, User Experience
View Project