CASE STUDY
Limestone Bank Rebrand
Challenge
Like many long-standing local and regional banks rooted in community-focused core values, PBI Bank faced the challenge of keeping up with modern financial services trends and attracting new customer segments. The Kentucky bank sought a modern, refreshed brand that would appeal to new markets while holding true to its trusted, face-to-face approach to banking.
Solution
We developed a simplified, sturdy look for the bank based on their new name: Limestone Bank. The term Limestone insinuates a firm foundation and references the limestone-rich Kentucky landscape. Clean, no-frills branding with a capital L at the center adds a polished, modern visual style to the bank's identity, while the underscore beneath the L — and the box around it — hints at the strong, dependable nature of the bank's people, services, and products.

But Limestone Bank's new look is only one small component of their rebrand; our copy and content team also developed a revamped brand messaging guide. Through a series of workshops and stakeholder interviews, we redefined their entire messaging hierarchy, from their core values and value proposition to a new tagline: A firm financial future starts here.
To roll out the new brand, we developed a cross-channel communications plan that consisted of email, direct mail, traditional and digital advertising, a media kit and press release, updated signage, easy-to-navigate web components, and employee swag kits.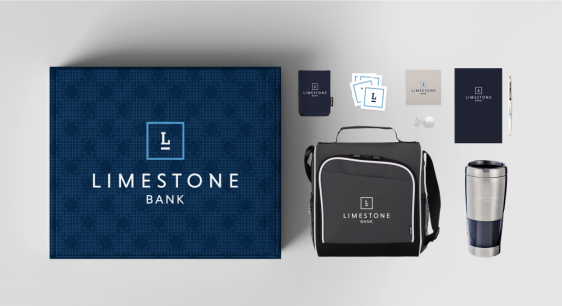 Results
The result was a sleek yet inviting professional brand that allowed for cohesion across all Limestone Bank properties and assets, including physical spaces. The new brand provided a solid jumping-off point for a more streamlined and intentional approach to promoting the bank's products and services.

Our Executive Director of Design Suz Nelson, said, "This project was both fun and challenging, because from a design perspective, there were so many facets of the brand to consider. When we rebranded the bank, we took into consideration all marketing materials, signage, swag, ATMs, and interior and exterior branch design. The scope was huge."
Related Projects
Work
Branding, Content Development, Video Production
View Project
Work
Advertising, Content Development, Video Production
View Project