Case Study
On-Time Mixers
"This shit is On-Time!"
After hearing that statement, the founders of On-Time Mixers knew they were onto something. And damn, there was plenty more to hear about these mixers, a healthy amount of it stirred into boisterous, not-so-PG cocktail conversations.
If you're not privy to the Southern slang of saying something's on-time, it translates to really damn good. While shooting the shit with the owners and shaking up a few of their Bloody Marys, we realized these mixers and the people behind them were something special. No froufrou additives, artificial flavors or half-assed ingredients here. These were all-natural, non-GMO, gluten-free mixers. After a few too many sips led to comical stories on how the company first got started, we were all on board with On-Time Mixers.
We preach authenticity in branding, so let's be honest. How could we take the explosive, F-bomb-ridden charisma of a couple of Grizzly long cut-chewing guys and turn it into not only a logo but also a refreshed brand identity? For them and us, this was a go-with-your-gut experiment to figure out the truthful personality that defined On-Time Mixers and set them apart from everyone else in their lane.
We didn't hop right into logo design without getting some initial direction from the owners. They used words like "old school," "masculine" and "sophisticated." No BS. No fillers. These fellas needed to blend the essence of their personalities with their products.
Turns out that essence is pretty similar.
So basically...
what does your brand feel like?
We kept coming back to this idea of authenticity throughout drafts of the logos. Classic, modern, masculine, sophisticated, playful—we tested them all in search of the perfect fit. Through multiple versions of mood boards and logos, we landed on a logo version that seemed pretty on-time.
It only took a few seconds during a round of golf to elicit that pure, honest response: "Damn, Turro! This stuff is On-Time." While it took our design team a bit longer to find the perfect recipe for the logo, we taste-tested enough options to know when we got it right.
Oh, sh*!. We almost forgot about the messaging. This is where our content team really got to have some fun - we focused our initial efforts on aligning On-Time Mixers messaging with their BS-free products, and the result was pretty raw.
We carefully crafted messaging by first seeking to understand, before seeking to be understood. What does that mean? It means we listened to the story of the company, why it was founded and why these guys were so passionate about getting everyone else drunk. We heard the story from different individuals, crawled previous marketing communications and learned how to talk the talk before we ever wrote a single word.
After doing our homework, we landed on messaging that doesn't take itself too seriously, but encourages readers to let On-Time Mixers help them Make Better Bad Decisions. Our focus aimed to help On-Time not just sell what they make but why they make it. After all, these guys care more about Bloody Marys than a group of mid-20's millennial girls at brunch - and that's a lot.
All this talk about authenticity, and then we use fake ice cubes? To get the right beverage shots, those were a must. We stirred up some cocktails, poured our photography crew a few and snapped some pictures of the rest. Get that watered-down, stock photography out of here. After all, if the product doesn't use any filler BS, why would we?
We shot everything in-house, utilizing our studio and bar. We also sourced all of the props—fake ice cubes, glasses, knives, cutting boards and some surprisingly elusive key limes.
It's all about getting the right angle, as photographer Andy Choka will tell you.
"When people want a fresh drink, they hope for something that tastes good, but oftentimes, the context of that first sip matters just as much," Choka said. "Capturing that context was crucial—brick and wood tones paired well with the Bloody Mary mix, and a sunny, "beachy" environment added a fun feeling to the Margarita mix."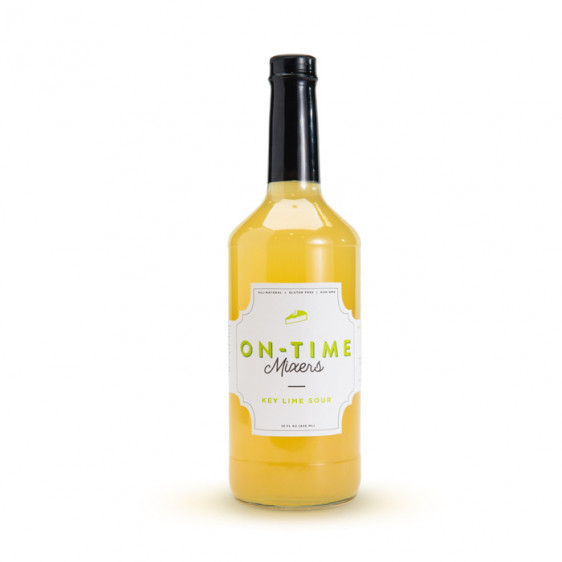 Jess Bradway

Designer

"This packaging design project was so different from others because I didn't only have to focus on pinpointing the target audience's traits or affinities. Instead, we figured out that success for On-Time Mixers would hinge on defining a personality for the brand, one that reflected the cofounders and their creation story. The three cofounders were the real audience here—their stories gave me plenty of inspiration to work with."
Ryder Harman

Client Service Specialist

"Although this was my first time leading a consumer packaging project, I quickly learned that we, as marketers, need to step outside of our roles in the office and remember how to be consumers. Before the project started, I remember going to a bunch of liquor and grocery stores, gazing up at a wall of vibrant labels and thinking to myself, 'Does anyone actually care what these look like?' It took some digging, but this project reminded me how to apply my distinctive, personal experiences as a consumer to the work that I help create. And yes, I quickly found out that people do care what the labels look like."
Similar Projects
Work
Branding, Content Development, Video Production
View Project