Case Study
Rev
Rev is a philanthropy event that raises money for trauma patients at Indiana University Health Emergency Medical Center and for patients recovering from critical injuries across Indiana. Highly anticipated every May, Rev takes place at the Indianapolis Motor Speedway, the same racetrack that hosts the historic Indy 500. The event features celebrity chefs, live music and a dance party on the racetrack finish line. 2017 marks our fourth year spearheading Rev event marketing efforts, along with our amazing partners at Indiana University Health Foundation.
Well-executed event marketing is grounded in building strong brand recognition.
Strategic branding involves more than slapping a logo on every piece of digital and print media. A brand should inspire certain feelings and connotations. So each year of Rev revolves around a different theme, which leads to a fresh color palette, focal images (like the Borg-Warner Trophy), design elements and textures and key messaging.
The 2017 theme, "Inspiring Victory," drove how we approached these brand elements.
This year's color palette gave the brand an upscale, regal feel with bold gold, red and dark blue.

To emphasize that feeling, we let the colors play a key role in how we presented imagery, using them to create overlays for photography.

Images themselves embodied the idea of "inspiring victory" by prominently featuring iconic objects such as the Borg-Warner trophy and brilliantly lighted Indianapolis Motor Speedway Pagoda.

These elements made up the brand that would define the months leading up to Rev, including the website.

The hub of any event, organization or company is its website. Event websites, especially, serve users best when they are simple, straight-forward and quickly guide users through a streamlined experience.
The website we created for Rev was no exception. A long-scroll design kept all relevant information on one page while a sticky navigation let users jump to any of six different anchored points.
We had to keep guests feeling engaged without feeling bombarded, especially in their inboxes. Since we were active with video and social media initiatives, we recommended keeping Rev's email communications highly focused.
For Rev 2017, email primary served as a way to update registered guests about things happening the night of the event, including special guest arrivals.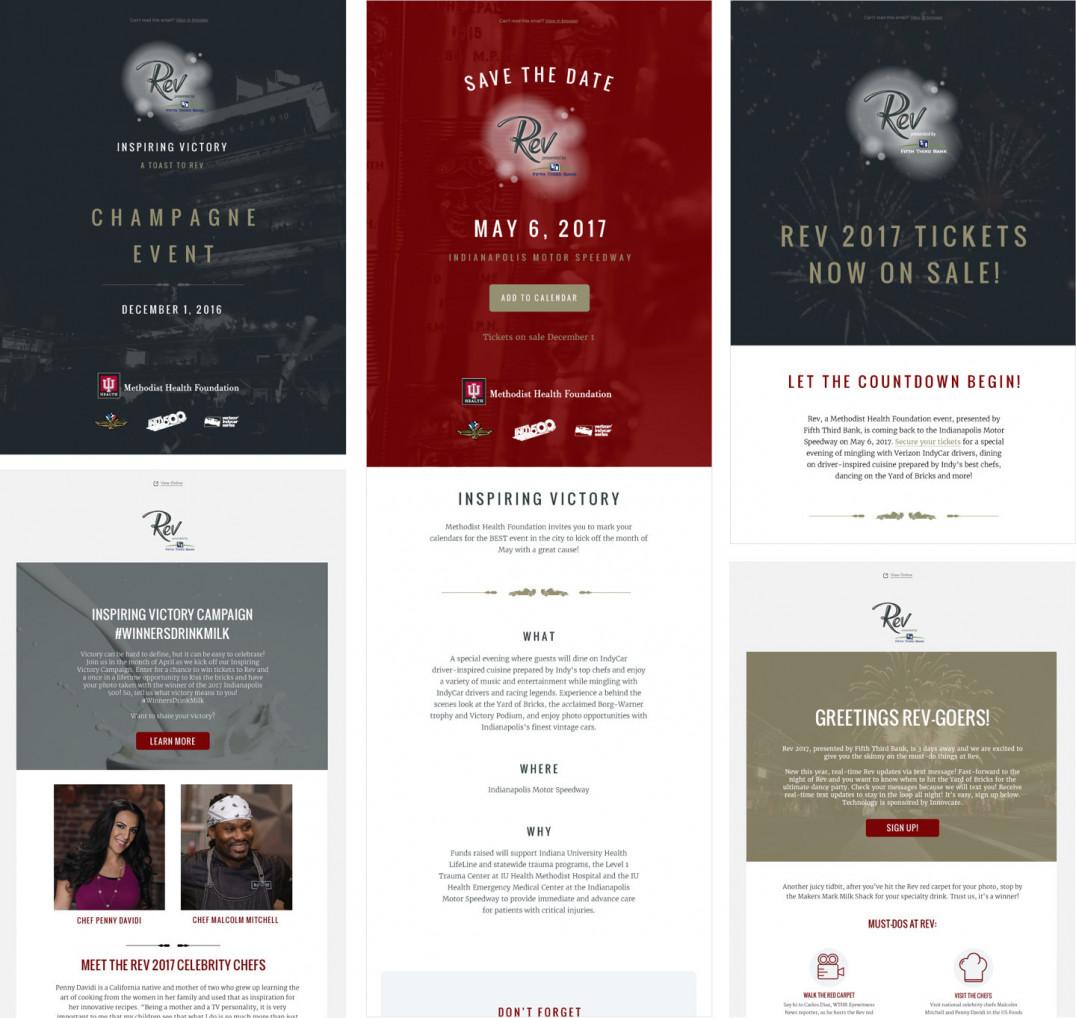 If there's one channel ideal for inspiring strong emotion, it has to be video. Indianapolis Motor Speedway's team captured interviews with some of the IndyCar drivers who would be attending the event, and our video crew hit the editing booth to keep the clips consistent.
And to build excitement leading up to the event, we had an in-house illustrator take a stab at stop-motion video to kick off Rev in a fun, energetic way on Instagram.
Video was important in our social media push this year to promote Rev while raising money for trauma patients.

As much fun as Rev is to plan and attend, it serves a purpose: to raise money to help trauma patients.
The #WinnersDrinkMilk social media campaign focused on this fundraising aspect by leveraging social video, creative image posts and other tactics.
In the tradition of past Indy 500 winners, the campaign encouraged social media followers to pour a glass of milk over their heads to raise awareness for the cause. For each mention of #WinnersDrinkMilk on Instagram, Facebook or Twitter, the American Dairy Association of Indiana offered to donate $100 to IU Health Foundation.
Video was the ideal choice to promote this campaign, especially with Timothy Pohlman, MD (Trauma Surgeon) getting in on the action.
By the end of the campaign, #WinnersDrinkMilk raised $25,000 dollars for IU Health Foundation from April 1–30.
Similar Projects
Work
Branding, Content Development, Video Production
View Project
Work
Advertising, Content Development, Video Production
View Project